Fun Friday: Story Time + Crafts #9
posted by
sreneedesigns
on June 4th, 2010
Here's what we did for Fun Friday on June 4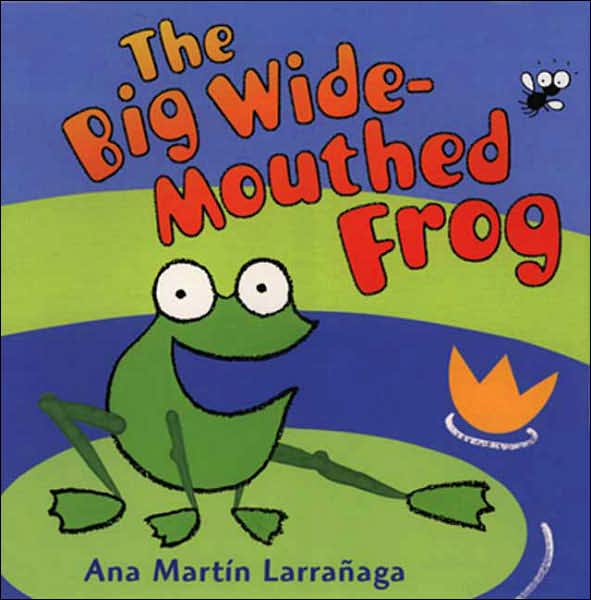 The Story
The book was The Big Wide-Mouthed Frog by Ana Martin Larranaga
The Fingerplay
Five Little Frogs
Five little frogs sitting on a well.
(Hold up five fingers.)

One peeked in and down he fell.
(Hold up one finger.)

Four frogs jumped high.
(With hand holding up 4 fingers, jump up.)

Four frogs jumped low.
(With hand holding up 4 fingers, jump low.)

Four frogs jumped everywhere, to and fro!
(With both hands jump forward, sideways, backwards.)

Continue until none are left.
The Craft: Frog Puppet
To make the frog's body, paint both sides of a dessert-size paper plate green. When it's thoroughly dry, fold the plate in half and use a utility knife (parents only) to make a 1-inch slit (for the frog's tongue) in the center of the fold. Create a finger hold on the underside of the body using a 2-by-3-inch piece of green construction paper. Center it on the bottom of the folded plate and tape the shorter edges in place. For the eyes, cut out a pair of 1-by-2-inch green rectangles and round the upper edges. Fold each rectangle in half and glue the lower portion to the top of the body. Glue on white and black paper circles or wiggle eyes.
Now, cut frog legs out of construction paper, a shorter set for the front and a long, bent pair for the back. Tape the tops of the legs to the underside of the body. Finally, cut out a 3/4-by-7-inch tongue from red construction paper. Round one end and slip it through the slit. To wag the frog's tongue, jiggle the straight end.
About Fun Friday
Fun Friday is a weekly event at KangarooBoo in Valley Junction. Join us for interactive storytelling, singing, and crafts. A fun way to foster a love for reading and develop your child's imagination. This event is free — no registration required.